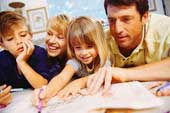 Sunday School Teacher Recruiting
There is great joy and blessing in sharing our faith with young people.
As a church, which baptizes, we have a commitment to support the Christian growth of uor young members. Sign up to be a Sunday School Teacher / Young Family Educator. Only a 6 - week commitment.
Sign up today in the Fellowship Hall sign up sheet or contact the coordinator.
Deer Lake United Church supports it's educators:
Christian Educators:
Mutual support, training and sharing
Seminar for Parents:
Sunday, September 11th at 5:00pm
Children and Teachers:
Potluck Dinner in the Fellowship Hall